Sombeet Sahu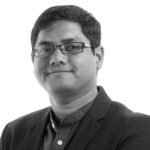 Company: Nkarta Inc.
Job title: Principal Scientist, Bioinformatics
Bio:
Sombeet is currently principal scientist and head of computational biology at Nkarta therapeutics. He leads the informatics and computational analysis of various cell therapy programs at Nkarta. He is an innovator and has brought various ngs and single cell informatics solutions to the industry.
Seminars:
Strategies to Enhance NK Cell Therapies Using Single Cell Multi-Omics Approaches 2:00 pm
This session will focus on how advanced single cell multi-omics technologies and translational informatics will play a critical role in cell therapy drug development.Read more
day: Day Two